The LiFT project held its first hybrid project meeting on the 2nd December 2021. The in-person aspect was held at the Surgeons Quarter in Edinburgh with ~30 people attending, with similar numbers participating online. Participants included the LiFT project team, project partners, advisory board members and other guests. The day was chaired by LiFT PI Kathryn Goodenough (British Geological Survey) while Bryne Ngwenya (University of Edinburgh) facilitated the online chat.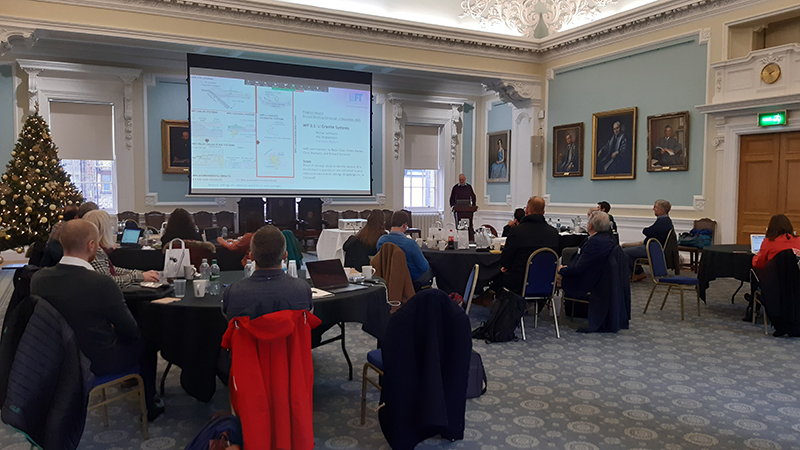 Robert Colbourn (Benchmark Mineral Intelligence) started the day with an overview of the current lithium market and trends, highlighting that the lithium deficit predicted for the mid-2020s is on course to be as big as the total 2015 lithium market. This was followed by an overview of the work being undertaken by WP1, given by Andrew Hughes and Jafar Al-Jawad (British Geological Survey), presenting work on the zonation, and interaction both within and between zones of salars.
A short break was followed by a talk by Jon Russill (SRK Exploration) on lithium exploration, highlighting how current exploration is still dominated by gold exploration and proposing how a new business model for junior explorers could help tackle some of the challenges facing the mining industry. Richard Herrington and Francesco Putzolu (Natural History Museum) and Marie Lefebvre-Desanois (University of Southampton) then gave an update on their mineralogy work being done as part of WP2 in the Jadar, McDermitt and Bigadiç regions.
The second half of the day began with Chris Yeomans (Cornish Lithium) giving an update on Cornish Lithium, including the recent announcement of their maiden JORC resource estimate for the Trelavour Project. Reimar Seltmann (Natural History Museum) and Kathryn Goodenough (British Geological Survey) of WP3 then gave updates about their work investigating the source of Li in granite, with fieldwork in Cornwall completed in the summer, and pegmatite systems, with fieldwork planned in Africa, respectively.
The afternoon session started with a talk about the social impacts of lithium in South America by Daniela Sanchez-Lopez (University of Cambridge), drawing attention to how lithium extraction from salars in South America affects ~2.8 million people, including 842 indigenous communities. The final update was given by Laura Newsome, Alastair Skeffington, Becca Kirk and Rowan Halkes (University of Exeter) of WP4. The two former gave outlines of their ongoing and planned geomicrobiological work, and the latter gave an update on the plan for Life Cycle Assessment work on the different types of lithium deposits. Finally, the Advisory Board members provided valuable commentary on the work of the project so far.
All those who participated agreed on how important meetings like this are in bringing research and industry together to help solve problems the Energy Transition poses. We all look forward to the next one!
Rowan Halkes